Laughlin Park & Roubidoux Spring
Roy Laughlin Park
Donated to the City in 1971 in honor of Roy Laughlin, a life-long local farmer, Laughlin Park is home to some of the most beautiful scenery on Roubidoux Creek. Roy Laughlin Park has also been named as a site on the infamous Trail of Tears by the National Park Service.

Cherokee Encampment at Roubidoux

Spring
"We travelled about 12 miles to a settlement...on the banks of a beautiful stream, named Rubedoo. Here we had a delightful place on the bank of the river convenient to wood and water."
~Excerpt from Reverend Daniel S. Butrick's Diary~
~March 12th, 1839~
During the 1837-1839 Trail of Tears forced relocation of the Cherokee Nation, the area that is now Laughlin Park was used as an encampment along the 2,200 mile long route from the southeastern part of the country to the State of Oklahoma. The City erected memorial boards along the Roubidoux Walking Trail in Laughlin Park along with a Wayside Exhibit that can be found on the bank of the Roubidoux.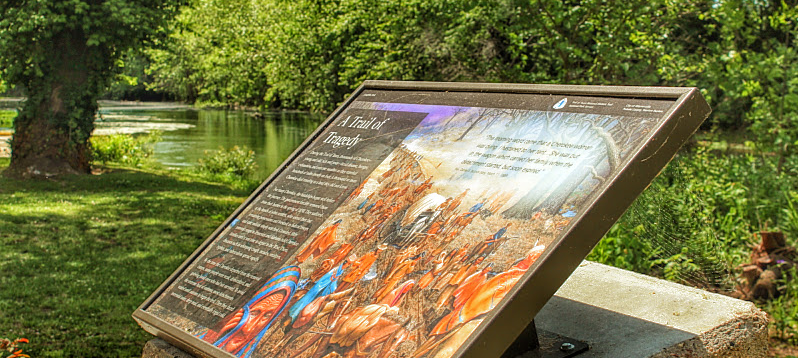 There are two separate trails that stretch across 26 counties and 600 miles in southern Missouri. The Laughlin Park encampment is located on the Northern Route. A complete map of the Trail of Tears can be found here.
More information regarding the Trail of Tears can be found at the links below.

Roubidoux Spring & Cave System
Roubidoux Spring is a second magnitude freshwater spring located within the City limits of the City of Waynesville. In the 1960's, Don Rimbach and John Viper cleared the spring opening and were the first diver's to enter the cave. Since then, Roubidoux Spring and Cave system has become a hot spot on the spelunking tour of every certified cave diver.
You can read about the Spring's rich history in an article written by local historian Terry Primas which was showcased in the Old Settler's Gazette in 2008.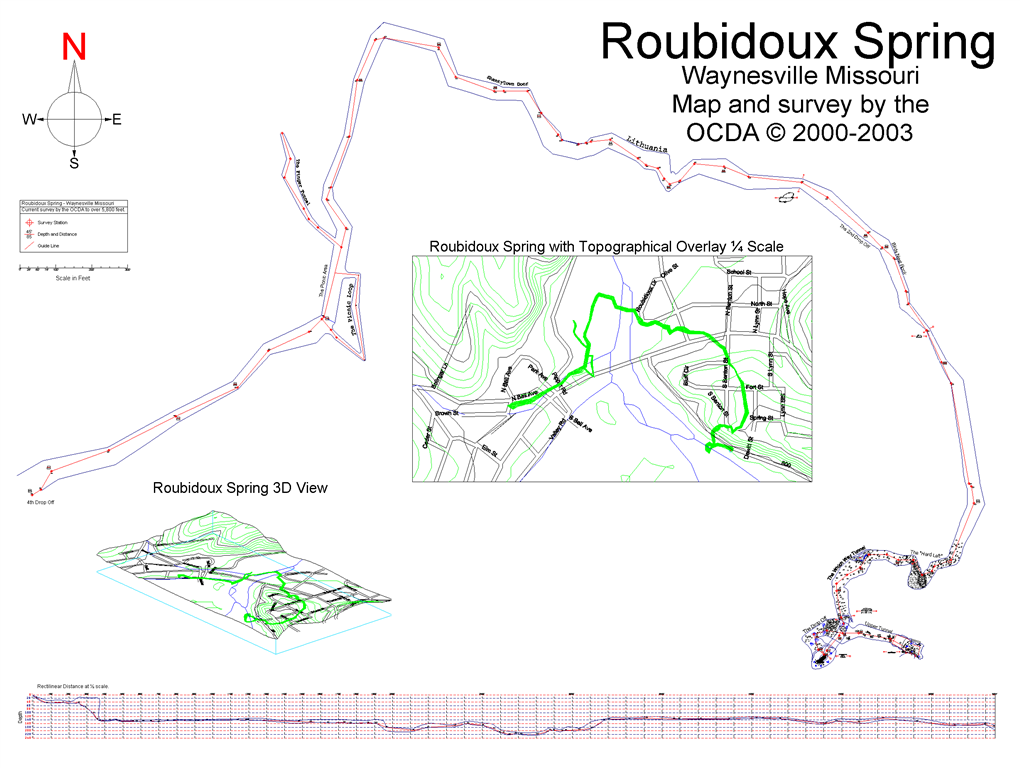 Waynesville was home to the 2015 National Speleological Society (NSS) Convention which showcased the Roubidoux Spring cave along with other cave systems in Missouri. For over 50 years, divers have braved the dark passages to a depth of 350+ feet. Depending on the rate of flow and temperature, which averages between 55-60° most divers experience a beautiful and breathtaking experience. Check out this dive from 2012 courtesy of John Janzen and John Scoles.
Once again, cave diving is for CERTIFIED divers only and you must check in at the Pulaski County 911 Center located at 1500 Ousley Road before diving.

Laughlin Park Handicap Fishing Pad
| | |
| --- | --- |
| Located next to the Roubidoux, the Laughlin Park Handicap Fishing Pad allows those with different abilities to experience trout fishing at its finest! Those who are mobility impaired can nestle right up to the water and enjoy ADA compliant facilities in a relaxed and peaceful atmosphere. Needing a Missouri fishing license? No problem! You can find out more information on the Missouri Department of Conservation website. | |

Locations
Roubidoux Spring & Cave System
Spring Rd
Waynesville, Missouri 65583
Odyssey Scuba & Travel, LLC
227 Historic Route 66 East
Waynesville, Missouri 65583
573.774.3483