Waynesville/Saint Robert Joint Airport Board


About your Board
Date & Time: 4th Tuesday of the Month at 3:00pm.
The Waynesville/Saint Robert Regional Airport is managed by a collabrative effort between the cities of Waynesville and Saint Robert. The City is represented on the Board by the City Administrator and a Council Representative.

The Joint Airport Board is responsible for overseeing the day to day operation of the Regional Airport located on Fort Leonard Wood. The Sister Cities have applied for and recieved several multi-million dollar grants that have improved and upgraded the airport over the last few years. Most notably, those improvements include the addition of a parallel taxiway, larger terminal and because of these improvements, the airport now offers jet service to Nashville and Dallas.

Committee Members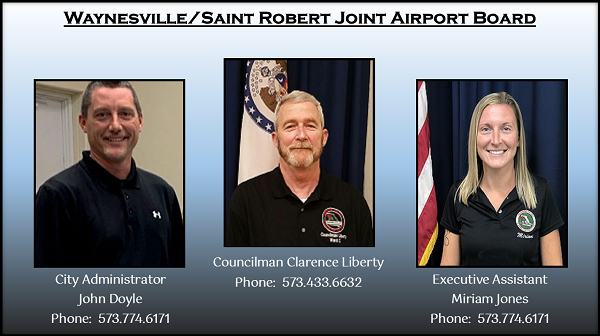 Joint Board Information and Documents
Meeting Agenda and Packet Information, along with prior minutes of past meetings can be found in the documents section below.
Also, any current legislation being discussed at Committee and any recent legislation that has been passed by the City Council that pertains to the Joint Airport Board can be found here as well.