Waynesville Downtown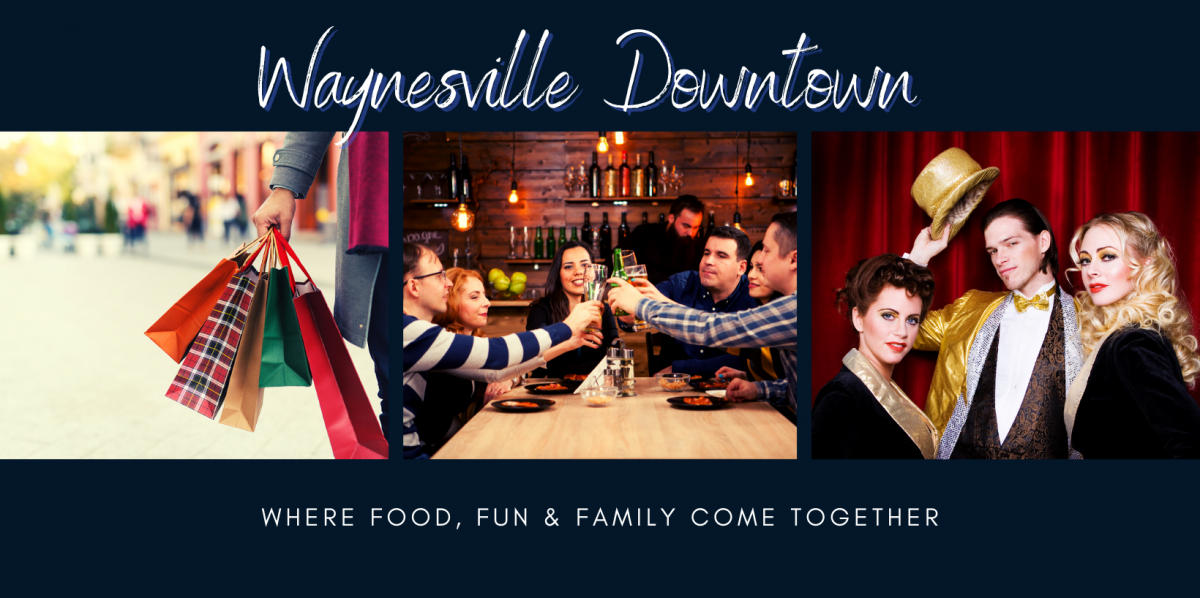 With an eclectic mix of historic and contemporary infrastructure, awesome eats and shopping, downtown Waynesville is the region's most dynamic urban center, while still maintaining that small home-town feel.
Whether you're a long-time resident or visiting Waynesville for the first time, there's no doubt that Waynesville is experiencing an incredible revival. The downtown business district is thriving in the wake of a complete economic overhaul. Area investors went to work, setting goals with quality of life as the underlying theme. In the end, their efforts attracted retailers and tenants while retaining those already downtown, making the area clean, safe and attractive. If you're looking for a fun day with family or friends, Downtown on the Square is where you need to be!

Food & Beverage


The latest addition to the Downtown scene, Piney River Taproom brings a fresh new dining experience with an old world feel.

This gem of a place offers some of the best craft beer in the Ozarks. Pair that with mouth-watering hand-made pizza and huge pretzels and you'll have yourself a great dining experience.

For a look at their menu and to stay up to date on The Taproom's events, head over to their Facebook Page.

SAM'S SWEET TREATS AND NATURAL PRODUCTS

Founded by teen entrepeneur Samantha Keeton, Sam's Sweet Treats and Natural Products began as a small ice cream cart that quickly developed a loyal following!

A devoted business owner, Sam's pledge to her customers is to always strive to bring them the best possible product and she definitely delivers. From Missouri made Honey Ice Cream in several mouth-watering flavors to lip balms, soaps, sugar scrubs and other natural products, this little shop is a gem of the Downtown District.

Located half a block from the Square, it's a must visit destination any and every trip to Waynesville!

The latest addition to the Roubidoux Plaza, Haute Dawgs has quickly become a Waynesville favorite!

Boasting some of the best gourmet hot dogs ever, this funky joint is sure to satisfy any craving!

Serving breakfast and lunch, Haute Dawgs is your go-to Downtown eatery!

Services



Located in the heart of the Downtown District, the Downtown Service Station has served the citizens of Waynesville and the surrounding communities for over 25 years.

The only full-service station in the area, stopping here is like a trip back through time, when customer service was the norm, not the exception. Don't miss this hidden treasure!

Entertainment & Adventure
The Pulaski Fine Arts Association has been bringing live theatrical events to the Waynesville area since 1996. If you are looking for a fantastic family friendly evening, be sure to check out the theater's current offerings.

Also, the PFAA is a non-profit organization who are always looking for volunteers. Be sure to reach out if you are interested in helping out or auditioning for a part in the next play!

As a full service PADI dive shop, Odyssey Scuba offers a one-stop shopping experience for all your diving needs.

Their staff brings decades of knowledge and experience to the special events and diving classes that are offered on a regular basis.

For more information on scheduled diving events and course schedules, be sure to like their Facebook page and stay current on their latest news and notices!


Shopping
Their name says it all! If you love unique hand-made crafts and products, then look no further. This Ozark beauty showcases the best our local artisans have to offer.

At Eclectic, you will find jewelry, pottery, candles, locally roasted Combat Coffee, purses and art, just to name a few. The list is endless!

Located on Route 66, they also stock numerous products that celebrate the historic byway.

Be sure to check in with them often as their inventory evolves and changes regularly!

JUST BECAUSE

Looking for that perfect gift? Need an amazing bottle of wine? Well look no further! Just Because has something for every occasion or no occasion at all.

If you want to put a smile on your loved one's face, check out their awesome collections of soaps, candles, Route 66 memorabilia and specialty foods. They also offer gift baskets customized to your needs.

Established in 2017, Warehouse 66 Music has become the heartbeat of a revitalized downtown business district. the Warehouse not only provides quality equipment, but their customer service ranks as one of the highest in Pulaski County.

A strong supporter of our community, Warehouse 66 Music hosts the annual "Party in the Park", located at the Stage in Roubidoux Park. They are also supporters of the Healing Box Project, a group of musicians that offer free guitar lessons to Military Veterans all over the State of Missouri.

If you haven't visited, be sure to put The Warehouse at the top of your list of "Places I need to See" or go ahead and make it your reason to visit Waynesville, you won't be disappointed!

For every holiday or occasion, Eircil's Jewelry will help you make memories that will last a lifetime.

Eircil's carries the latest trends in jewelry fashion along with timeless & classic pieces sure to compliment any style.

Eircil's is also home to all of your jewelry care needs, from cleanings and re-sizing to engraving and more.

ROUTE 66 COMMUNITY ART GALLERY
Owned and operated by award-winning photographer Jax Welborn, the Route 66 Community Art Gallery showcases over a dozen artists that are located all along the Mother Road. These works of art include paintings, photography, jewelry and digital art.
This Ozark gem offers unique gifts along with educational classes taught by Ms. Welborn. For more information on this distinctive and amazing place, check out their Facebook page.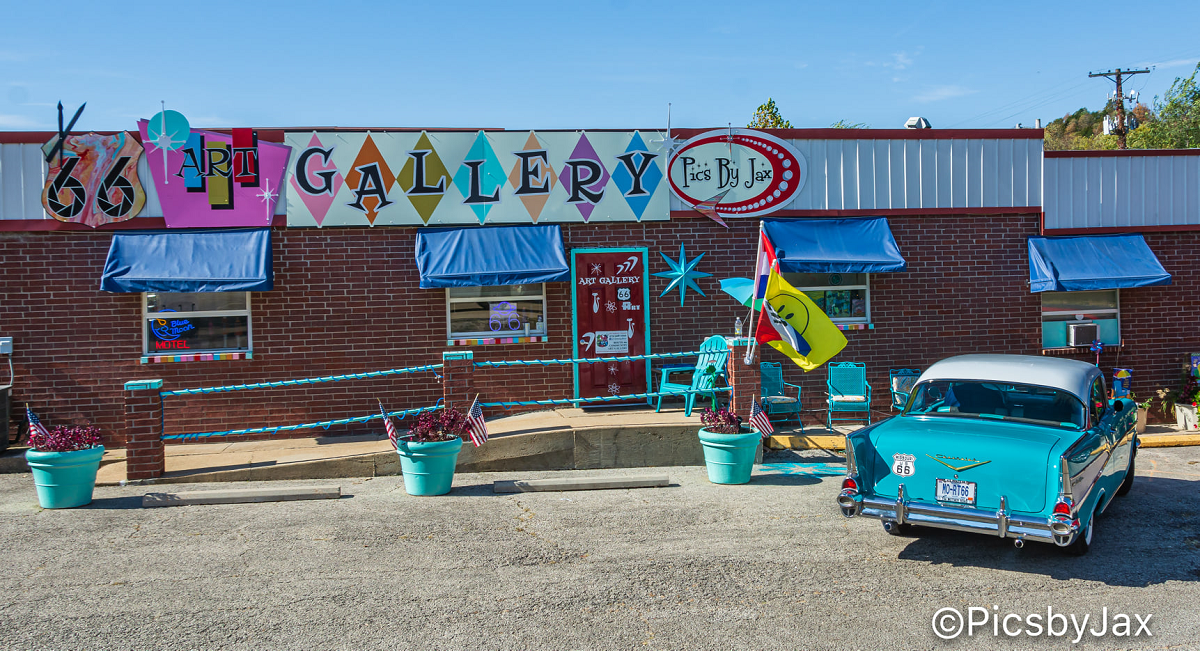 Located on N. Benton and North Street, Waynesville Business Graphics has been the cornerstone of the Downtown District since they opened for business in the 1970's.

Offering its clientele a wide variety of office supplies including everyday items and office furniture, Business Graphics is your go-to for most business needs. If they don't have it in stock, they can get it and quickly too.

Business Graphics also offers a wide variety of printing services, from

business cards and brochures to customized business forms. This local favorite will keep you on track and looking professional.

They have been busy working to improve their services in order to better serve the community, so keep checking in with them to see the changes that are coming, both online and in-store!

LONE OAK PRINTING

No trip to Downtown would be complete without checking out the folks at Lone Oak Printing. More than just a standard print shop, Lone Oak Printing handles all your business, event and party needs by offering a wide option of products and services.

Tim and Audra offer great service with their one-on-one consultations. Their level of expertise guarantees quality custom products for each customer.

| | |
| --- | --- |
| Lost in the Woods Antiques showcases uptown vintage pieces in a down-home friendly atmosphere. This amazing shop is known across the region for their outstanding customer care, vast knowledge and expertise in regards to antiques and other novelties. If you're looking for historical pieces at reasonable prices, then Lost in the Woods is your go-to destination. | |

ZEIGENBEIN FEED & FARM SUPPLIES

Established in 1986, Zegeinbein Feed and Farm Supply has been one of the cornerstones of the Downtown district for over 3 decades.

Offering a wide variety of animal feed, spring, summer and fall produce, outdoor project and gardening supplies and has one of the area's finest greenhouses. Zegeinbein offers landscaping flowers, vegetable and herb plants for your home or garden. Make Zeigenbein Feed & Farm Supplies your Spring Shopping destination!

ENDLESSLY BLESSED BOUTIQUE

Knestled within the Roubioux Plaza, the Endlessly Blessed Boutique is filled with anything a lady would want! From clothing and accessories to furniture and home decor, EBB is sure to have what you are looking for.

This little gem also offers a great newletter for you to be able to stay up-to-date on new arrivals and sales! Be sure to check out their website and get signed up!

You can also find out the latest on their Facebook page!

Health & Wellness



Locations
American Roots Salon
115 N Benton Street
Waynesville, Missouri 65583
573-433-6521
Eclectic Originals
225 Historic Route 66 East
Waynesville, Missouri 65583
573-337-2494
Eircil's Jewelry
317 North Street
Waynesville, Missouri 65583
573-774-5211
Hopper's Pub
318 Historic Route 66 East
Waynesville, Missouri 65583
573-426-2905
Just Because
115 N Benton Street
Waynesville, Missouri 65583
573-774-4995
Kneaded Massage
204 N Lynn Street
Waynesville, Missouri 65583
573-433-2442
Lone Oak Printing
300 Historic Route 66 East
Waynesville, Missouri 65583
573-774-3001
Lost in the Woods Antiques
218 Historic Route 66 East
Waynesville, Missouri 65583
573-433-2855
Odyssey Scuba & Travel
227 Historic Route 66 East
Waynesville, Missouri 65583
573-774-3483
Paradise Deli & Ursula's Schitzelhaus
311 North Street
Waynesville, Missouri 65583
573-774-8422
Piney River Taproom
326 Historic Route 66 East
Waynesville, Missouri 65583
573-433-2739
Route 66 Community Art Gallery
107 Historic Route 66 East Ste B
Waynesville, Missouri 65583
573-528-1292
Serenity Spa & Wellness Center
310 Historic Route 66 East
Waynesville, Missouri 65583
573-774-3833
Theater on the Square
310 Historic Route 66 East
Waynesville, Missouri 65583
Waynesville Business Graphics
125 N Benton Street
Waynesville, Missouri 65583
573-774-5460
Zeigenbein Feed & Farm Supplies
504 Hillside Drive
Waynesville, Missouri 65583
573.774.6610
Sam's Sweet Treats & Natural Products
229 Historic Route 66 East Suite A
Waynesville, Missouri 65583
573.842.7434
Downtown Service Station
117 Historic Route 66 East
Waynesville, Missouri 65583
573.774.6784